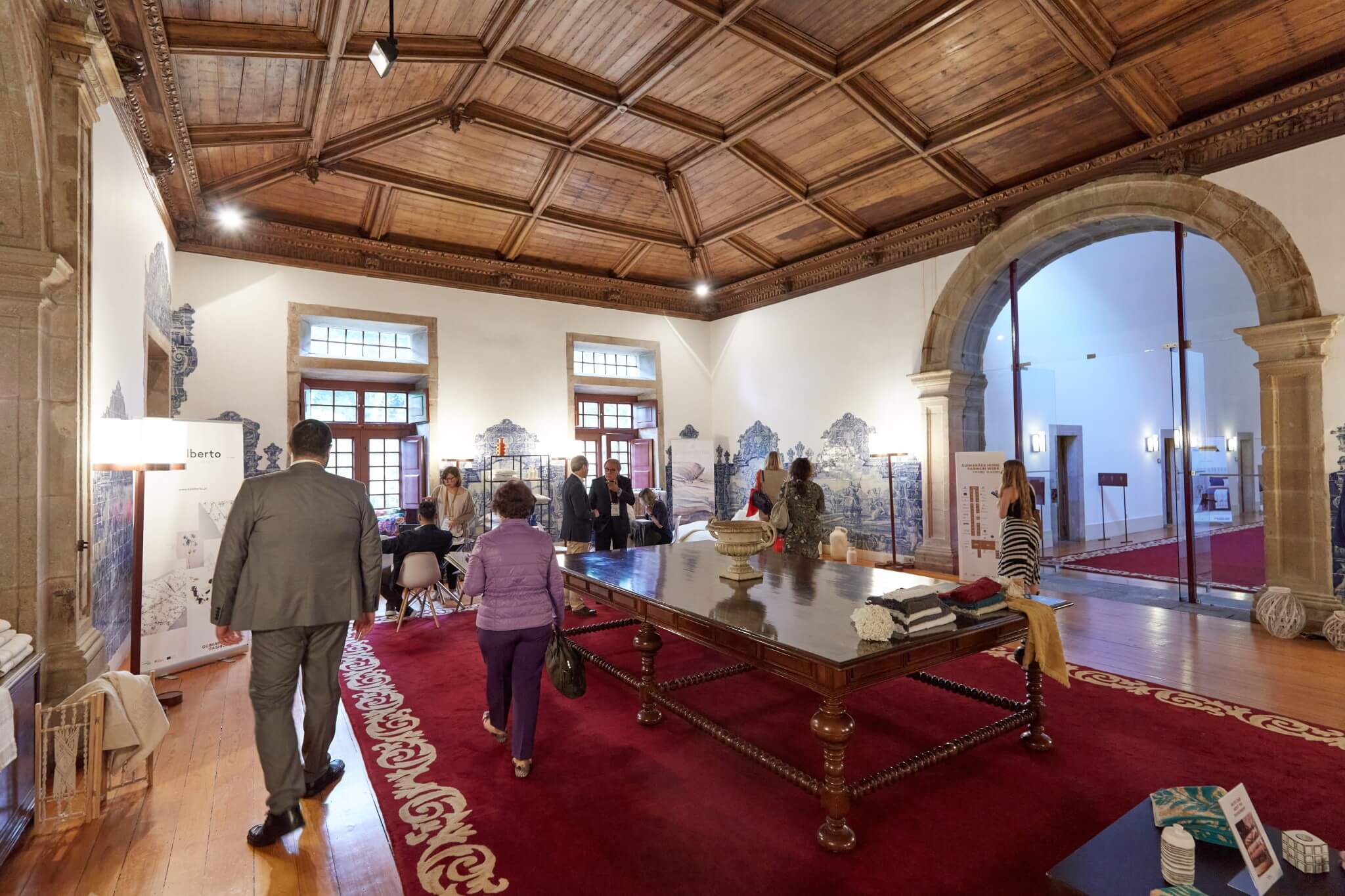 Date: 9th to 12th, May 2023
Venue: Pousada de Santa Marinha da Costa
 GHFweek2023 took place at Pousada de Santa Marinha da Costa in Guimarães from May 9th and 10th.
This time, eleven Japanese companies (fifteen visitors) visited the exhibition, and it was the first participation in 4 years for Japanese companies.
Moreover, for most visitors, it was the first visit to Portugal as well.
Thus, all Japanese visitors looked forward to visiting and seeing Portuguese home textile new collection in Guimarães.
They got a good impression about Guimarães and Portuguese home textile products and they visited, after the exhibition, some exhibitor's factories to see their full collections. Most schedules were booked by aicep HQ in advance following Japanese companies requests. Some Japanese companies also booked their schedule during the exhibition, with aicep's Tokyo staff support.
Recently, some Japanese home textile importers grew their knowledge about Portuguese home textiles in particular, terry towel, bed linen and other home textiles.
There have been some results as an outcome of a step-by-step approach to the market.  One important factor is the GFHweek.
Associação Home from Portugal has consistently invited Japanese companies since the first edition of the exhibition and participation was only interrupted due to COVID-19 restrictions.
Although most Japanese visitors visit Heimtextil as well, during GHFweek buyers can fully dedicate their time to Portuguese home textile products for 2 days.
aicep's support before/during/after is also quite important for Japanese visitors' future business as well.
Most Japanese visitors requested alraedy to be invited to next GHF week in 2024.
Some exhibitors will be participating on " ILS – Interior Life Style Tokyo"  https://interiorlifestyle-tokyo.jp.messefrankfurt.com/tokyo/en.html, in mid-June visiting Japan individually after GHFweek2023.
This is quite important for Japanese companies and their clients, especially.
" ILS – Interior Lifestyle Tokyo" is not a big exhibition like some European ones but it is the best known exhibition in Japan for related interior products. For Japanese companies, because Portugal is kind of far from Japan, it is easy to attend and find new Portuguese products.
We think if Portuguese home textiles are presented at both exhibitions, GHFweek and at ILS, they will have more business chances in Japan.
Japanese visitors already received swatches/samples from some exhibitors and some of them have contacted exhibitors.
As usual, it was a good experience for them, and they will start to present/sell to their clients.
I also had a good experience to visit Portuguese companies with Japanese companies as usual.
Japanese visitor's comments
Exhibition:
Could concentrate on Portuguese home textile products.
Well organized
Good location (presentation home textiles at each room of Pousada de Santa Marinha da Costa)
Expected more exhibitors of blankets, throws, wool products, table wears etc
Expected more household goods in addition to home textile because recently, Japanese home textile importers also trade other lifestyle products.
It was kind of difficult to select companies because some products are similar (example, bedspread)
Japanese quality standards are stricter than European ones and the standards are also different. Thus, Japanese companies must test products' qualities in Japan. Moreover, big retailers ask producers to check products by needle detector before they export.